Missouri Valley Conference Staff
---
---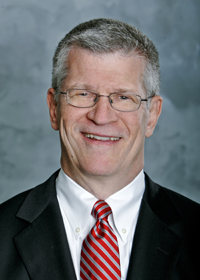 Doug Elgin, Commissioner
Doug Elgin enters his 23rd year with the Missouri Valley Conference leading an experienced staff that has blazed a trail of excellence over the past two decades.

Since being named the Valley's ninth commissioner on May 17, 1988, Elgin and the Valley staff have been catalysts in helping the St. Louis-based conference regain a position of prominence in college athletics.

The MVC celebrated its Centennial year in 2006-07, and Elgin and his staff can reflect upon a remarkable list of accomplishments and contributions they have made over the past two decades that have added to the long, rich athletic tradition of the conference.

Elgin and his staff oversaw the realignment and the stabilization of the Missouri Valley membership during the decade of the '90s as the league expanded to admit Missouri State, Northern Iowa and Evansville as new members, and also brought women's sports programs under the conference's administrative umbrella in July of 1992.

The league staff also paved the way to establish St. Louis as a long-term neutral site for the men's basketball tournament beginning in 1991, one of the most significant developments in the modern era of the Valley. In 2010, the State Farm MVC Tournament celebrated its 20th year in St. Louis, the second-longest continuous run at a neutral site for any NCAA Division I men's conference basketball championship.

The success in creating the showcase for the men's basketball tournament -- Arch Madness -- allowed the MVC staff and its local partners to make the City of St. Louis a frequent stop on the NCAA Tournament trail. Beginning in 1993 when the Valley hosted the NCAA Midwest Regional, the MVC staff and its local partners began an incredible run in that would bring nine more NCAA basketball events to sporting venues in St. Louis from 1998 through 2010, including three NCAA Final Fours (the 2001 and 2009 Women's Final Fours, and the 2005 Men's Final Four), and six more men's NCAA Tournament regional events.

During his tenure, the MVC staff has built one of the best in-house collegiate television operations in the country and has successfully marketed the league and its 18 championship sports – all now title sponsored by State Farm.

Elgin completed a four-year term on the NCAA Division I Men's Basketball Committee in 2002 and was the first Valley representative ever to serve as a member of that prestigious group.

In more than 35 years in college athletics, Elgin has served in a variety of capacities at four schools and in two conference offices. His career path included stints as sports information director at Frostburg State University (1975-76), Miami-Dade Community College South (1976-77), Lafayette College (1977-80) and the University of Virginia (1980-83). In 1983, he left Virginia to begin a long stint in conference work, moving to Tampa to serve under the college basketball Hall of Famer Vic Bubas on the Sun Belt Conference staff.

The 59-year-old native of Hagerstown, Md., is a 1973 graduate of Lafayette College. He earned a master's degree in sports administration from Ohio University in 1975. Doug and his wife Melaine have six daughters: Lisa, Jessica, Julie, Anna, Emma and Mary.


---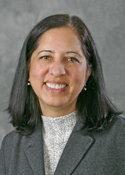 Patty Viverito, Senior Associate Commissioner
Patty Viverito is in her 19th season as senior associate commissioner at the Missouri Valley Conference. She is also in her 26th year directing the Missouri Valley Football Conference as its commissioner.

A Chicago native, Viverito was named the Missouri Valley Football's first commissioner in September of 1982. She led the conference (then known as the Gateway Conference) to national prominence in the 1980s. The league, which sponsored nine women's sports and FCS football, saw its women's programs merge with their MVC men's counterparts in 1992.

At The Valley, Viverito's responsibilities include championship administration and compliance, serving as the primary coaches liaison for most sports, and she served as the Tournament Director of the 2001 and 2009 NCAA Women's Final Four.

A nationally respected administrator, Viverito has served on the prestigious NCAA Executive Committee, the NCAA Council, the Division I Women's Basketball Committee and was chair of the NCAA Committee for Women's Athletics and Olympic Sports Liaison Committee. Viverito has also served as a member of the CCA Executive Committee and Chair of the Division I-AA Subcommittee of CCA, the NCAA Recruiting Task Force, the NCAA Women's Division I Basketball and Issues Committees, the Women's Basketball Coaches Association Board, and the NCAA Work/Life Balance Task Force. She currently serves on the NACDA Board and on the Collegiate Women's Sports Awards Board, which is responsible for selecting the Honda-Broderick Cup winner annually, the National Association of Sports Officials (NASO) Board, and the NCAA Football Academic Working Group.

In 1996, Viverito was recognized for her contributions to collegiate athletics, when she was selected as the NACWAA (National Association of Collegiate Women Athletic Administrators) Administrator of the Year. In addition, she received Professional Service Achievement Alumni Awards from the University of Massachusetts at Amherst and Northern Illinois University.

She has an extensive background in athletic marketing and administration, formerly serving as an account executive for the Tidewater Tides minor league baseball team and as special project director at the University of Texas at Austin from 1979 to 1981. At UT, she coordinated activities for the women's athletic program in the areas of promotion, sports information, fund-raising and event management.

Viverito earned her bachelor's degree from Northern Illinois and her master's in sports management from the University of Massachusetts at Amherst. In 1994, she received the Harold J. VanderZwaag Distinguished Alumnus Award from Massachusetts.

Married to Frank Viverito, President and Executive Director of the St. Louis Sports Commission, they have two sons: Gregory and Matthew.


---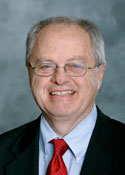 Joe Mitch, Associate Commissioner
Joe Mitch is in his 26th year with The Valley, starting as assistant commissioner in 1985 when the league office relocated to St. Louis from Tulsa. He was promoted to associate commissioner in 1988.

Mitch serves as tournament director for the men's basketball tournament that annually is in the top 10 nationally in attendance among Division I conferences. He also handles baseball for the conference, serving as tournament director, arranging league schedules and overseeing the assignment of umpires for conference games.

Mitch is the primary staff contact with MVC Sports Properties, which handles television advertising and sponsorship sales for the Valley, and oversees marketing and promotions for the conference.

Mitch is a member of the Local Organizing Committee for NCAA basketball tournaments in St. Louis and participated in a presentation to the NCAA that led to St. Louis being awarded the 2005 NCAA Final Four where he served as chair of the games management committee for the St. Louis LOC. Overall, Mitch has been involved in various capacities in 35 straight NCAA Final Fours.

Mitch has been tournament manager of seven NCAA tournaments (the 1993, 1998, 1999, 2004, 2007 and 2010 Midwest Regionals and the 2002 Midwest First/Second Rounds), was local media coordinator for the 1978 NCAA Final Four in St. Louis and three NCAA Midwest Regionals (1975, 1979 and 1982) and has worked numerous other NCAA basketball tournaments as a media relations specialist.

Mitch was publicist for the 1983 Davis Cup tennis quarterfinals in St. Louis and the 1977 Intercontinental Cup basketball series for the U. S. squad that played games against national teams in Italy, Greece, Belgium, Israel, Yugoslavia and the Soviet Union. He was selected to serve as a media relations officer at the 1984 Olympics in Los Angeles and the 1994 U. S. Olympic Festival in St. Louis.

Mitch's professional career spans 42 years, most of which has been in intercollegiate athletics. He was assistant commissioner with the Metro Conference from 1976 to 1983 and has held sports information positions at four institutions: Illinois-Chicago (1968-70), Southern Illinois (1970-73), Dayton (1973-75) and St. Louis (1975-76). He also served as communications manager for the St. Louis-based Sports Time Cable Network from 1983-85 and briefly worked at Southwestern Bell Publications (1985) before joining the MVC.

A 1968 graduate of Michigan State University with a bachelor's degree in journalism, Mitch also serves as executive director of the 900-member U. S. Basketball Writers Association. He's held that position since 1983. Mitch has participated in church missionary trips to Africa, Costa Rica and Mexico with his wife Sue, an ordained Methodist minister. They have two adult children: Jeff, a medical sales representative, and Stacey, director of business communications for the San Antonio Spurs.


---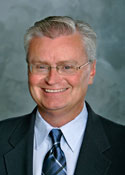 Jack Watkins, Associate Commissioner for Marketing/TV
Jack R. Watkins is in his 19th season at the Missouri Valley Conference, and his eighth as Associate Commissioner for Marketing and Television. Previously, Watkins had served as the league's public information and media services director for 11 years.

In his marketing capacity, Watkins, 47, oversees sponsorship fulfillment and coordinates in-season conference promotions, including implementation of point-of-sale retail promotions and consumer participation programs. He also develops promotions for league championships and assists with the coordination of the Conference's community outreach programs, including the State Farm Just Read! Program.

As the staff's contact for television, Watkins oversees production, hiring on-air talent and clearances and assists MVC Sports Properties with advertising sales for The Valley Television Network on Fox Sports Midwest, Comcast SportsNet Chicago, Fox College Sports and ESPN.

During his tenure at The Valley, he has been a media coordinator for the 1993, 1998 and 1999 NCAA Men's Basketball Division I Midwest Regionals and 2002 NCAA First/Second Rounds in St. Louis, and served as a television time-out coordinator a total of 12 times for the NCAA Men's and Women's Basketball Division I Championships.

As men's basketball publicity contact, his 1997, 2000 and 2002 MVC hoops guides were voted "Best in the Nation" by the College Sports Information Directors of America conference publications committee, and the 2001 and 2003 MVC yearbooks earned "Best in the Nation" for their cover design.

A native of Sikeston, Mo., Watkins became the 14th recipient of the Katha Quinn Award -- presented for service to sportswriters who cover college basketball -- from the 800-member United States Basketball Writers Association in April 2003.

A 1985 University of Missouri-Columbia journalism graduate, Watkins was assistant sports information director at Kansas State University during the 1986-87 school year and at Missouri from 1988 to 1992, prior to joining The Valley staff.

A member of the USBWA and National Association of Collegiate Marketing Administrators (NACMA), Watkins and his wife Genny live in Creve Coeur, Mo.


---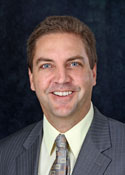 Mike Kern, Associate Commissioner for Communications
Mike Kern is in his 19th season at the Missouri Valley and 20th year overall in serving the membership. In a dual role, Kern serves as Associate Commissioner for the Missouri Valley Football Conference, and has been with the Missouri Valley Football Conference since 1991.

For The Valley, he helps oversee all media relations for the 18-sport league, and his primary responsibility is men's basketball. He was Media Coordinator for the 2001 NCAA Women's Final Four, the 2004 NCAA Men's Regional, the 2005 NCAA Men's Final Four, and the 2009 Women's Final Four. He was assistant tournament manager for the 2008 First and Second Round Men's Basketball Tournament in Omaha. He has also served as timeout coordinator for two NCAA women's basketball regionals.

Kern oversees the Missouri Valley Football Conference's in-house television package, which includes scheduling and clearances, plus the hiring of on-air talent.

In 2002, he received the St. Louis Business Journal's annual award for "Best Use of Technology in Sports" as he introduced the league's on-line statistical reporting system used for the league's Olympic sport programs.

Kern, 43, earned a bachelor's degree in journalism from Missouri (magna cum laude) in 1988 and a master's degree in communications management from league member Missouri State (summa cum laude) in 1990.

A St. Louis native, Kern served as a sports information graduate assistant for two years at MSU and as a student assistant at Missouri as an undergraduate.

His publications and features have earned numerous CoSIDA (College Sports Information Directors of America) awards. His 1998 women's basketball guide, 2000 and 2002 football guides and 2006 men's basketball guide were judged "Best in the Nation," while his 1993, 2006 and 2007 Valley Football guides, the 1995 MVC softball guide, the 1998 women's basketball guide, the 2000 women's basketball guide, and his 2004 men's basketball guide earned "Best in the Nation" for their cover designs. His 1997, 1998 and 2006 Valley Football guides, and his 2004 men's basketball guide each placed third, while the 1999 football guide, his 2005 men's basketball guide and 2008 football guide were second nationally. Kern's 1990 MSU softball guide was also second in the nation. He has a total of 30 national top-5 awards for his publications work.

He is a member of CoSIDA, ConSIDA (Conference Sports Information Directors of America), the Football Writers Association of America, and the United States Basketball Writers Association. He is the father of two teenagers: Megan and Michael.


---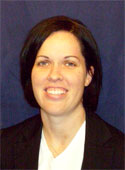 Mary Mulvenna, Asst. Commissioner for Compliance/Community Relations
Mary Mulvenna is in her sixth year with the Missouri Valley Conference, earning a promotion to Assistant Commissioner for Compliance and Community Relations in the summer of 2007.

Her compliance duties (for both the Missouri Valley Football Conference and the Missouri Valley Conference) include monitoring and interpretation of NCAA and Conference rules utilizing the NCAA database, managing the NCAA legislative process, serving as the primary liaison to the Student-Athlete Advisory Committee and administering the National Letter of Intent program. She created the league's compliance website, and works closely with member institutions to educate them on MVC and NCAA rules.

In addition to compliance, Mulvenna's community service responsibilities include coordination of community service projects for SAAC and NCAA Yes Clinics for the Missouri Valley Conference. In addition, she handles the State Farm MVC Good Neighbor award and Just Read programs. She also assists in the championship administration of selected sports at The Valley with sport oversight of men's and women's soccer and swimming and diving. Mulvenna worked in the Command Center in Boston, Mass., for the 2006 NCAA Women's Final Four.

Mulvenna, a 2004 NACWAA/HERS graduate, served on the AEC cabinet for a two-year period. In the summer of 2008, she was appointed to the prestigious Legislative Council. In 2009, Mulvenna was appointed to the Legislative Review Interpretations Committee (LRIC). She, a native of Philadelphia, Pa., came to the Missouri Valley Conference after spending two years at the Ivy League as a compliance assistant.

Mulvenna graduated from Temple in August 2001 with a degree in sport and recreation management, and she received her master's degree in sport administration from Temple in May 2003. She was a student-athlete at Temple, earning Women's Soccer Rookie of the Year honors in 1997.

She spent two years as a compliance intern at Temple before taking her post at the Ivy League and she has been active in coaching soccer.


---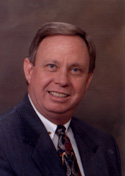 Rich Steed, Chief Financial Officer
Now beginning his tenth year with Missouri Valley Conference, Rich Steed brings over 30 years of executive financial management experience to The Valley.

As CFO, Steed insures that appropriate financial controls are in place and applies sound techniques to all aspects of The Valley's financial matters. He is responsible for developing creative and effective financial strategies to help The Valley achieve its conference goals and protect its assets. Additional responsibilities include human resource issues, purchasing of major assets, review of contracts, maintaining IT integrity and assisting with event-based duties.

Prior to joining The Valley, Steed served as Business Manager of the Moolah Shrine Center for five years. From 1980 to 1995 he was the owner of R.J.C. & Company, a consulting services firm focusing on computer and software accounting solutions for its clientele.

A St. Louis native, Steed is a graduate of Southeast Missouri State University where he earned a bachelor's degree in business administration with an accounting major and economics minor.


---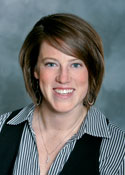 Kelli Briscoe, Director, Communications and Sports Administration
A native of Warrensburg, Mo., Briscoe enters her third season at the MVC.

At the Missouri Valley Conference office, Briscoe is the primary media relations contact for volleyball, men's soccer, women's basketball and baseball. To that end, she handles all publicity for those sports, which will include the production of publications, web site maintenance, and weekly releases.

Briscoe provides assistance in managing the league's internet web site and on-line statistical reporting system, will assist with the league's video-streaming program, and will also serve as a staff administrator at a number of championships.

In addition, Briscoe will oversee administration for the sport of volleyball and will also serve as the coordinator for the league's internship program.

Prior to joining the Valley staff, Briscoe spent a year as an intern at the Western Athletic Conference in Englewood, Colo. At the WAC, Briscoe was the primary media contact for women's soccer, women's swimming and diving, men's and women's tennis, and men's and women's track and field. In addition to her media relations duties, Briscoe assisted in the overall development and implementation of marketing and promotional efforts for the nine-member conference.

Prior to her one season at the WAC, Briscoe spent one semester as an intern for the Mid-South Conference in Louisville, Ky., where she coordinated all aspects of the men's and women's basketball tournaments, men's and women's tennis tournaments, men's and women's track and field, and cheerleading championships. While earning a master's degree from the University of Louisville (May 2007), she spent two years at Nelligan Sports Marketing in Louisville, Ky., assisting with various game-day operations and promotions for University of Louisville football and men's basketball events.

Briscoe received her bachelor's degree in recreation and leisure studies from league member Missouri State in 2005, where she was a member of the Bears' volleyball team.


---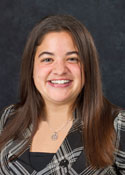 Kristin Gregory, Assistant Director, Communications and Sports Administration
A native of St. Louis, Mo., Kristin Gregory enters her first full-year at the Missouri Valley Conference after serving as a media relations intern for swimming & diving, track & field and tennis in 2009-10.

At The Valley, Gregory handles sports information duties for cross country and softball which includes handling all the publicity for those sports. She oversees the operations of conference championships, including men's and women's basketball, handles the conference awards programs and is the officiating liaison to all six officiating programs.

Gregory comes to the Missouri Valley Conference after serving as an intern for the St. Louis Sports Commission, where she was actively involved in planning, coordination and marketing of different events - most notably the annual Arch Rivalry Football Game (Missouri vs. Illinois at the Edward Jones Dome).

As an undergrad student at the University of Missouri, Gregory served two years as a RecSports Assistant Manager, where she promoted facilities and programs and managed a team of supervisors and officials for seven different sport programs.

She graduated magna cum laude with a degree in business administration from Mizzou in May 2009, and just completed her master's degree in sports management at Lindenwood University in St. Louis in May 2010.


---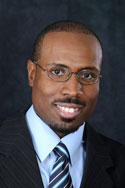 Derrick Docket, Director of New Media and Technology
Derrick Docket began his tenure with the Missouri Valley Conference in October 2010.

As Director of New Media and Technology, Docket serves as league's point person for new media and technology. To that end, he manages the MVC website administration and maintenance and serves as the internet point person for the league's varied websites.

Docket also oversees the promotion and development of the Missouri Valley Conference brand through the various forms of new and social media, including, but not limited to, video and photo content, video-streaming, Facebook, Twitter, MySpace, YouTube, and blogs.

Additionally, he oversees the league videostreaming program, including the negotiation of production contracts, procurement and distribution of necessary hardware and software, which includes working with institutions to secure proper staffing at each MVC championship, while assisting league institutions with the implementation of a "Campus Connections" model.

Docket has a strong background as a freelance designer and graphic artist, having spent two stints at Epsilon in St. Louis as a production artist and analyst. He's also freelanced for two popular websites in the St. Louis area (InsideSTL.com and i70baseball.com).

Between stints at Epsilon he spent more than two years as a Computer Graphics Specialist at Osborn & Barr Communications (advertising agency).

A 2002 graduate of MVC member Missouri State with a bachelor's degree in Art and Design, Advertising and Promotion, Docket is still active with his alma mater, organizing alumni relations actions for MSU in the St. Louis area. He and his wife Brittany reside in St. Peter's Mo.


---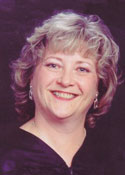 Lori Brutton, Assistant to the CFO
Lori Brutton joined The Valley team in January 2008 and brings many years of bookkeeping experience including the last eight years in a non-profit setting. Primary responsibilities include full-charge bookkeeping duties (accounts payables, receivables and preliminary month end closing).

Prior to joining The Valley, Brutton was an accounting assistant with the St. Louis-based American Optometric Association where her responsibilities encompassed a wide range from accounts payable, accounts receivable, general ledger, collections and travel. Aside from her day-to-day accounting tasks, she was instrumental before, during and after the annual conventions of The AOA assisting staff, members, volunteers and the general public with on-line and on-site registration. Prior to AOA, she performed bookkeeping duties also as an assistant to CFO Rich Steed while he was the Business Manager at the Moolah Shrine Center.

Before entering the non-profit sector, Brutton dedicated 17 years to corporate America working for a then major retailer headquartered in the St Louis region. During this period, she was involved in retail store organization, the corporate office and finally the distribution center.

Throughout her years in the workforce, Brutton pursued her B.A. in Business Administration from Lindenwood University, graduating in May 2006. Born and raised in the St. Louis area, she resides in the St. Peters area.


---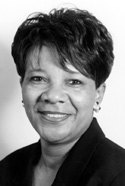 Maxine Day, Executive Assistant
Maxine Day is in her 14th year as executive assistant for the Valley.

Day came to the Valley with vast administrative, office management, and marketing experience having previously worked for Dow Chemical in St. Louis before transferring to the Los Angeles office. She has also held administrative positions for Ropak Corporation and Sealed Air Corporation. After returning to St. Louis, she accepted a position as Administrative Assistant for the Continental Basketball Association where her duties included office management and game operations until the CBA league office relocated to Phoenix.

Day's duties at the Valley include coordination of conference meetings, assisting with office management/administration, providing marketing assistance with The Valley sponsor hotel network, and working with the league's annual basketball tournaments and NCAA events. In addition to her Valley duties, Day also serves as executive assistant to the Commissioner of the Missouri Valley Football Conference where she is responsible for meeting planning, event logistics, as well as general office management/administration.

A graduate of Ford City (Pa.) High School, she continued her education at Hickey School of Business in St. Louis and Mt. San Antonio College in Walnut, CA with concentrated studies in marketing. She has two daughters: Gloria and Ashleigh.


---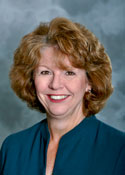 Carla Fight, Assistant to the Commissioner
Carla Fight became a full-time member of The Valley staff in January 2004, hired as Assistant to the Commissioner.

Fight joined The Valley family after 24 years in the airline/travel industry. She is no stranger to the Missouri Valley Conference as Fight had been a volunteer for the State Farm MVC Men's Basketball Tournament for 13 years prior to taking over her current role in 2004.

Her career has kept her working mainly with St. Louis airlines. For two years preceding her appointment at The Valley, she was Manpower Coordinator for American Airlines' Premium Services Department.

Before her move to American Airlines, Fight worked for Trans World Airlines for 22 years. At TWA, she was a manager for the Ambassadors Club network, a position that put her in daily contact with the airlines most valued customers.

At The Valley office, Fight provides daily administrative support for the conference commissioner as well as special projects. She also oversees travel for Valley staff, league officials and television talent. Fight also handles the league's merchandise program and student-athlete and administrator gift programs.


---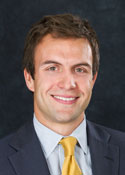 Branden Miller, General Manager, MVC Sports Properties
Learfield Sports recently named Branden Miller General Manager of "MVC Sports Properties." A Kansas City, Mo., native, Miller is entering his first full academic year with the Missouri Valley Conference (MVC) and will be integral in helping to fulfill MVC Sports Properties' relationship with the Conference. His responsibilities include; strategic corporate partnership program development, management of all sponsorship rights to MVC championship events, and the continued development of the league's multi-state television package.

Miller joins MVC Sports Properties and the MVC from his previous role as an Account Executive at Learfield's flagship institution, Mizzou Sports Properties. While at Mizzou, he performed multiple roles; corporate sponsorship sales, football and basketball game day operations, game program and print development, and helped develop multiple digital programs surrounding the Universities Official Athletics Site and social media programs.

Miller is a 2006 graduate of Missouri, where he studied Sociology. He has been married three years to his wife Sarah and enjoys a unique and active lifestyle that includes; ultimate Frisbee, banjo, and art.